Education is not the filling of a bucket, but the lighting of a fire. – Yeats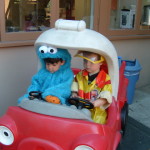 Philosophy
Westminster Presbyterian Preschool was founded in 1980 with the philosophy that school should be a place of joy and excitement, a place where learning is an adventure.
The world here is explored through creative dramatics, art, music, science, language, cooking, and make-believe trips to faraway places, all taught in a stimulating environment by an enthusiastic staff.
Each child is encouraged to be creative and to explore the environment through hands-on experiences.
Special emphasis is placed on enhancing a positive self-image and on helping each child to develop warm personal relationships with others.
Our Commitment
At Westminster Presbyterian Preschool, we understand and accept the sacred trust of caring for your child.
Please be assured that we will treat your son or daughter like our own child.
Licensure
Westminster Presbyterian Preschool is licensed to accept children between the ages of two through five years for the school year which runs from July to June .
The school welcomes children of all races, colors, nationalities, and religious origins. We believe a wide variety of backgrounds will enrich our school and the lives of our students.
Communication
We pride ourselves on keeping the lines of communication open.  Our staff is available on a daily basis.  A conference can be scheduled in the fall to discuss your child's progress. A spring conference can be scheduled if necessary. Progress reports will be sent home in April. By no means, however, should you feel that conference time is the only time you should visit with your child's teacher. We want to exchange thoughts and information on your child with you whenever necessary.
If you would like more information regarding our school, would like to schedule a tour of the facility, or would like to put your child on our waiting list, please contact:
Westminster Presbyterian Preschool (619) 224-7403
Register Today